0.69 update release date announcement!
---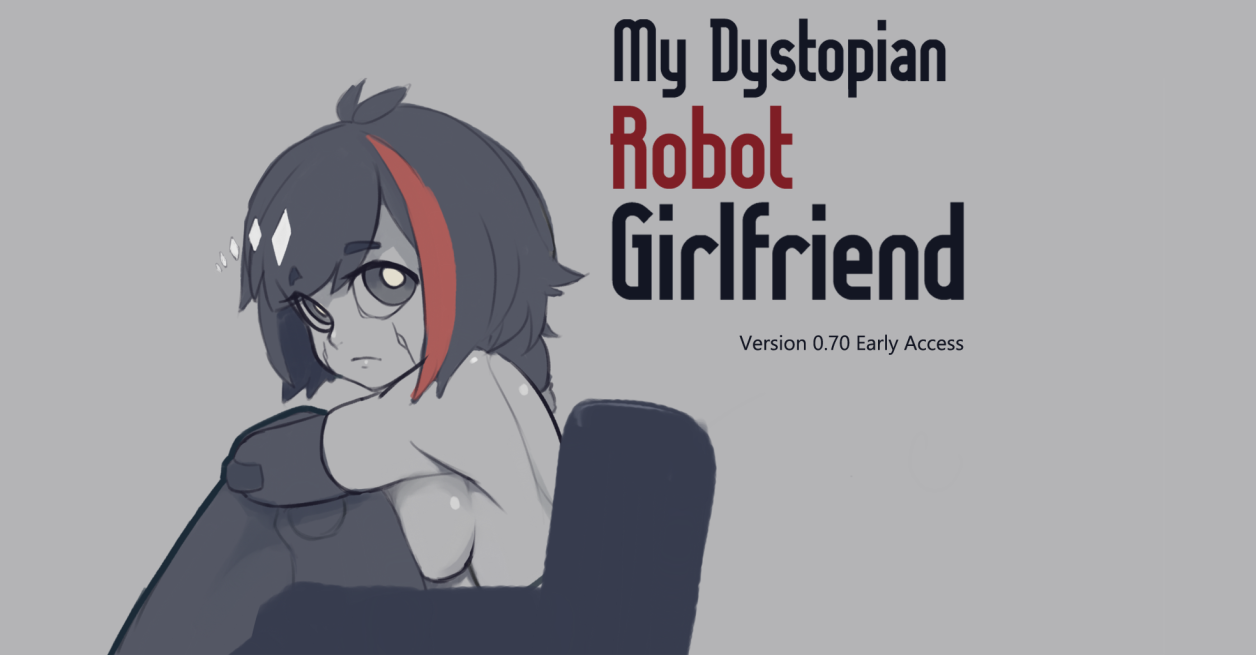 Big announcement for the My Dystopian Robot Girlfriend fans. Update 0.69 will release on the 24th of August. If you can't wait that long it's already available for our patrons with "Early access to game releases" on Patreon and Subscribestar.
As I said in the previous devlog we have a new artist if you'd like to see more if his art feel free the check out his twitter.
Changelog:
An important note. Because of changes to saving system and save itself saves from previous update will NOT be compatible with this one.
Biggest changes:
-Completely new art for the bot. (She looks super cute now!)
Big changes:
-Reworked interaction scene.
-Reworked missionary scene.
-Reworked doggy scene.
-More dialogues with the bot.
-You can now also select what you want to talk about instead of getting a random one.
-Bot now has emotions.
-You can now kiss the bot. Everywhere. (yes even there)
-Food and hunger rework.
-New place outside: Food dispenser
-New events and endings related to hunger.
-New events and endings related to mental health.
-You can now throw away items and throwing illegal items might cause "fun".
-Also a small storyline related to this.
-New website: Casino(Slots and blackjack minigames)
-New work minigame.
-Nicer GUI!
-Streaming has been buffed.
Small changes:
-Cum now doesn't instantly disappear once you end the fuck scene and bot can comment on it.
-Tooltips appear once you hover over status bar elements.
-Couple new small websites.
-More comments and news.
-You can now equip hair using the "equip" button.
-Equipped items now have an effect on the viewership.
-Common items now stack and you can buy them in bulk.
-More items you can buy in the pharmacy.
-One new bot part.
-Some info for the completionists in the main menu.
-Credits in main menu.
-Increased number of save slots to 36.
-Email shortcut and unread email indicator in pc.
-Bot will now greet you when you start interacting
-Fucking now has sounds.
-More easter eggs.
Bug fixes:
-Fixed a bug that caused you to metabolise food faster if your balls are bigger.
-Fixed a bug that caused you to be able to fuck with a flacid cock, which made it look like you had an invisible ghost cock.
-Many other bug fixes I forgot
Get !Ω Factorial Omega: My Dystopian Robot Girlfriend