Help with translation of the game!
---
We have started working on translating the game into different languages(About two weeks ago). Game really wasn't designed with translation in mind, but I somehow pushed through and made it all work. Of course getting game ready for translation isn't all there is to it. There's also you know translation and there's a lot of text. As of now the game has 85708 words or if you prefer 481554 characters.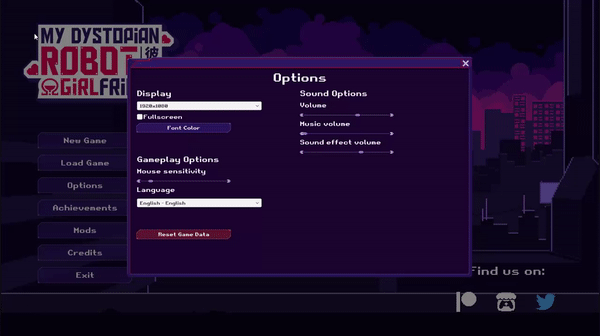 Right now that's how the translation progress looks(If it's below 2% then it's pretty much zero):
Chinese (Simplified)(zh-Hans): 2.10%

German(de): 10.90%
Japanese(ja): 2.10%
Polish(pl): 12.63%
Spanish(es): 98.44%
Russian(ru): 32.91%
French(fr): 9.98%
Slovenian(sl): 30.09%
Hungarian(hu): 17.67%
Greek(el): 1.06%
Turkish(tr): 11.53%
Italian(it): 3.11%
Dutch(nl): 2.08%
Korean(ko): 3.37%
Slovak(sk): 5.40%
Portuguese (Brazil)(pt-BR): 8.58%
Thai(th): 1.04%
Indonesian(id): 5.21%
Now lastly. Do you want to help with translating the game? Come to our discord and send a message to Sheep#0684 or in #i-want-to-help-with-the-game channel. If you don't see your language above don't hesitate, new languages can be quickly added.
Get !Ω Factorial Omega: My Dystopian Robot Girlfriend